Intro to Conservative Judaism
Thursday, June 8, 2017 • 14 Sivan 5777
7:30 PM - 9:00 PM
601 N. Parham Rd.
Led by special guest Zevi Lowenberg
This is a stand-alone class which will examine the basics of Conservative Judaism, its place in the halachik spectrum of day-to-day life, and will touch on the history of the movement. Finding our place in the broad picture of American Jewish life, we will work to examine where that place is now and how it has changed over time. This will be an open class, with far more discussion than frontal lecture.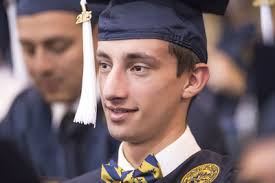 Originally from Baltimore, 2d Lt. Ze'ev (Zevi) Lowenberg lives in New York City where he is pursuing a master's degree in rabbinic ordination at the Jewish Theological Seminary.
Sorry, Registration has ended.
Share Print Save To My Calendar
Sat, March 17 2018 1 Nisan 5778
Sat, March 17 2018
1 Nisan 5778
Upcoming Temple Events
Pre-Passover Class with special guest Dr. Josh Kulp


Sunday, Mar 25th 10:00a

to 12:00p




Rabbits and Lettuce: The History of the Haggadah in Pictures and Words, light breakfast provided

Morning Minyan followed by Siyyum


Friday, Mar 30th 6:45a

to 7:45a




Grove Ave., Breakfast sponsored by Willa Siegel Kalman

First Night Seder


Friday, Mar 30th 6:30p

to 9:00p




Family Table Seder


Shabbat, Mar 31st 6:00p

to 9:00p




join others for Passover 2nd Night

Tot Shabbat


Shabbat, Apr 7th 11:15a

to 12:15p




Encounter RVA with Rabbi Knopf


Wednesday, Apr 11th 7:00p

to 9:00p




Session 5

Community Yom HaShoah Commemoration


Sunday, Apr 15th 2:00p

to 4:00p




Officiated by both Rabbi Knopf and Hazzan Marian

Cook's Night Out


Wednesday, Apr 25th 6:15p

to 7:30p




Tot Shabbat


Shabbat, May 5th 11:15a

to 12:15p




Men's Club Picnic


Sunday, May 6th 12:00p

to 2:30p